When we plan to give something, personalized presents will always have a special place in our hearts. 
Printed materials, whether it is on t-shirts or a cup; we can all agree that they are cost effective and not generalized. Therefore, print-on-demand materials have been on 'demand' for a long time. 
Small businesses have skyrocketed through these print on demand services. This has also helped people in starting their own clothing line. There are online service channels that are helping these hustlers to gain exposure. 
Two such platforms are Customcat and Teelaunch. But, which one to choose? Here is a comprehensive study of Customcat Vs Teelaunch.
What Is CustomCat?
CustomCat is an eCommerce portal and service provider which has a seven-acre production and 600 employees housed inside the facility. It currently holds 10,000 products and its high end technology allows mass customization, embroidery and dye-sublimation decorations. 
CustomCat Features 
With Customcat, you can either start selling individual print-on-demand, or you can start your own brand merchandise. 

All the designs on the portal are one of a kind and original. 

You will not need any prior advanced coding knowledge. Since everything is pre-planned on the website, you can connect easily and start selling in minutes. 

The printing and shipping part is completely CustomCat's responsibility. 

The various CustomCat products are Printed shirts, Embroidered hats, and gallery wrapped canvases. 

You can start a business with just an idea and design, since an account on CustomCat will give you a comprehensive print-on service. 

It is not restricted to small businesses since high volume sellers can also find their service fulfillment with this portal. 

Your design is important for CustomCat, therefore the resolution won't be lost while printing. They have direct garment printing services. 
CustomCat Pricing 
Before we understand the comparison between CustomCat vs Teelaunch, let us first see the CustomCat Pricing.
You can make an account for free in the application. However, if you are accessing CustomCat through Shopify, then it will cost you $30 a month. Although, a free trial of 14 days is generally offered. 
CustomCat Customer Service 
CustomCat shipping is one the biggest plus points when it comes to satisfying customer service. The product is mostly ready to be shipped in 2 to 3 days on average. Which is comparatively faster than any other services. 

Delivery is generally within 1 to 8 days in the US and when it comes internationally, minimum 1 week, maximum 4 weeks. 

The shipping cost that will be charged from you as a seller depends on the number of items or weight of the product. 
CustomCat From What Country?
The CustomCat services started in the country of France. However, sellers and shipment can be all over the world. 
In France, the most sold categories are home decor and clothing. 
How To Order Sample From CustomCat? 
CustomCat sample products can either be ordered to understand the quality of the product or to simply buy some presents. CustomCat Vs Teelaunch will be easier to understand after learning the answer to this question. 
However, if you are a businessperson or planning to get a planned merchandise for your brand then orders can be placed by just opening an account free of cost. Later you can pay to have an eCommerce network through this domain.
CustomCat Reviews
CustomCat reviews when it comes to businessmen or brands, however the customer reviews for this domain are more than enough to understand that this portal has its name with good credibility. 
What Is Teelaunch?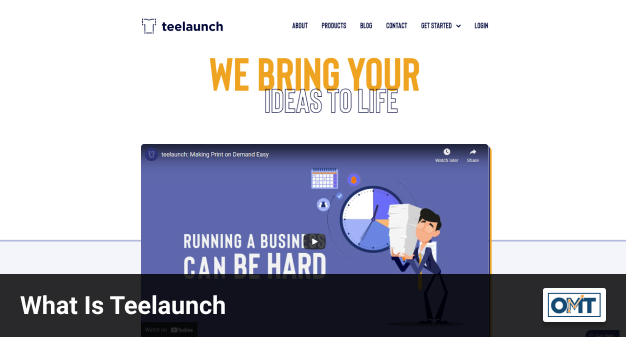 It is one of Shopify's well known print on demand services. They are known to be the easiest print on demand services, according to its customer review. They are known to be very organised when it comes to managing your business. 
Teelaunch partners with factories around the globe since they want to decrease the distance between the customer and the factory; this allows them to get fast delivery. 
Teelaunch Features 
Before we understand the CustomCat Vs Teelaunch, let us know the features of Teelaunch. 
Teelaunch believes in giving fast services, that's why they have partnered with many factories all over the world. Because it is only through the shortened distance of the factory to the customer that will lessen the shipment time. 

Teelaunch products include stickers, pillows, canvases, posters, shower curtains and many more. In short there is not a single material on which teelaunch print on demand services won't be able to print on. Even a glass cutting board! 

You can allow Teelaunch to do everything for you. You just have to open an account and test the application before you can opt for starting a business here. 

Teelaunch allows a lot of customization for your store. Having your store in Teelaunch doesn't require  much digital marketing knowledge. You can open a store with a few easy steps. 

Teelaunch also believes in keeping your creative work relevant. Hence, selling might be their primary work, they can also work in advertising. 
Teelaunch Pricing 
Teelaunch pricing depends on the shipment. Therefore, this is how the pricing will work, it's $14+$4 per product within the USA, and then $10 for international shipping. These pricing are for customized products. 
For example: If you charge $20 dollars for a customized shirt then, with each shirt you make a profit of $2 after deducting the 14+4= $18. 
There is no hidden subscription fee that will be added within the application further in its usage. 
The shipping cost roughly stands for $2 to $10 for US and for international shipping, it can go up to $20. 
Shopify dashboard can help you offer free shipping to your customers. 
It takes 9-12 business days for the average delivery time for international shipping. On the other hand, for the US it will take 3-6 business days. 
Where Does Teelaunch Ships From? 
All the products are shipped from its headquarters in Sioux Falls, but they are transported to other factories in other places within the states or other countries. 
Teelaunch Customer Service 
The biggest customer review that is worth noting is the consistency in printing. Needless to say, the high resolute creative touch can decrease a little while printing, however customers have been mostly satisfied with Teelaunch since the entire team is known for printing good quality designs. 
However, the ink usage is a little limited for each item which can be a backdrop for this. This can disappoint some of your customers. 
Customer service hotline or email services are also open 24/7. Changes can be made within the order at every time. 
The Teelaunch application has to be linked to an online eCommerce store. So, your customers have to be a part of Shopify or Etsy for them to discover you. 
Where Is Teelaunch Located? 
Although teelaunch has established connections with factories all over the world. However, it started from Sioux Falls, SD. 
CustomCat Vs Teelaunch
After the elaborate discussion of the two domains, let's jump into a comprehensive comparison of the CustomCat Vs Teelaunch. 
When it comes to the offers of printing on demand, CustomCat eliminates the custom process and the design is printed directly on the product with its 3D dye diffusion. This is the reason why the shipping time decreases relatively more, compared to Teelaunch. 

Teelaunch on the other hand has an extensive third party process from the order to the printing. Hence, it might take a little more time for shipment. 

When it comes to customer service, both the domains have a good track record for customer satisfaction. However, it's only Teelaunch which has 24/7 customer service. 

However, print quality is more qualified and supervised with CustomCare which makes it more credible among its competitors. 

CustomCat also provides embroideries in other clothing materials, at the same time it is known for shipping clothes in bulk, which makes it accessible for big companies as well. 

Other than that, both applications allow you to give coupon codes that can be customized for your customer's benefits. 

The number of items as shown in the website is more for CustomCat than it is for Teelaunch. 
Final Words 
eCommerce businesses are skyrocketing in the market now. At times like these, the artists inside us want to come out and explore the capitalistic side of it. These two above-mentioned domains are appropriate if you wish to start something new and you don't have much experience in the field. 
However, among CustomCat Vs Teelaunch whichever you choose, always remember that it is the customer feedback which makes you credible. You should never be too dependent on the applications. 
You have to make use of other social media applications that will help you connect to the aviators buying your art. 
Read More: