Scribbr Plagiarism Checker
| | |
| --- | --- |
| PROS | CONS |
| Best Plagiarism Checker | For Quality Work It Is Expensive |
| Language Experts Do Proofreading | Limited Functions |
| Easy To Use | Additional Transaction Fees |
| | |
| --- | --- |
| Features | Price |
| It Has A Wide Variety Of Databases | For 7,500 Words – $17.56 |
| Uses Leading Technology | 7,501- 50,000 Words – $29.31 |
| Comprehensive Report | 50,001 And More – $41.05 |
| Own Source Checker | |
| Multi-File Format Support | |
What Is Scribbr Plagiarism Checker?
There are a lot of great plagiarism checkers in the market, but among them, the Scribbr Plagiarism checker is one of the best. In 2019, this was voted as the best plagiarism checker.
Scribbr Plagiarism Checker uses elements similar to Turnitin's checker, which helps you to compare your work with a wide variety online. Not only does it checks for plagiarism, but it also checks for similar sentence construction using similar synonyms and combined words.
Both Turnitin and Scribbr are quite similar in their database, but Turnitin is used primarily by University faculties. But Scribbr Plagiarism Checker is available for students to use.
What Are Its Features?
Being one of the best plagiarism checkers in the market, it sure does have some great features that make it stand out, than the rest.
1. Detects All Kinds Of Plagiarism
One of the best features of Scribbr is that it has the capability to detect all types of plagiarism. It detects all similar forms of sentences for plagiarism.
Unlike other plagiarism checkers it detects structural changes as well along with combined words or texts, even altered synonyms.
2. Uses Industry-Leading Technology
Since Scribbr is powered from the similar elements that of Turnitin's Similarity Checker, it also uses the most advanced technology as well. It not only just search for similar words, but also similar paraphrases and even the combined words.
As it uses elements of Turnitin, which is a leading in the proofreading business, Scribbr is not far back behind.
Know More: ProWritingAid Plagiarism Checker
3. Wide Variety of Database
Since, Scribbr is mostly used by students mostly for academic proofreading and plagiarism checking, it has a wide variety database. Not only does it searches online platforms but also, journals, books, publications and also articles.
4. Comprehensive Report
The plagiarism reports are very important, and helps a lot for us to rectify our mistakes, so they need to be detailed and comprehensive. For Scribbr there are three elements to this highly comprehensive report.
First is the plagiarism percentage that is similar for most checkers. Secondly, a list of all the words that have ben found to be plagiarised. And thirdly, to highlight all the test or phrases that are found to be similar.
5. Developed For Students
Scribbr is a plagiarism checker that is primarily used by students. This is the reason why it has such a vast scholar database, unlike any other other plagiarism checking software.
It also provide accurate outputs for academic accuracy.
What Are The Pros And Cons?
Like any other plagiarism checker in the market Scribbr too, has some pros and cons. Pros are more than cons, but let's check them out nonetheless. 
Pros:
Plagiarism Knowledge Base.
Language Experts Do The Proofreading.
Easy To Use.
Documents Are Safe And Confidential.
Provides Insightful Comments And Suggestions.
Access To Scholarly Database.
Different File Formats Are Accepted.
Helpful Customer Care Team.
Results Are Of The Highest Quality.
Reliable.
Pricing Estimation Is Fast.
Works With More Than 20 Languages.
Cons:
Limited Functionality.
Quality Output Comes With a Hefty Price.
Additional Transaction Fees.
Expensive Services.
Can't Directly Add Scribbr Citation On The Report.
What Are The Alternatives To Scribbr?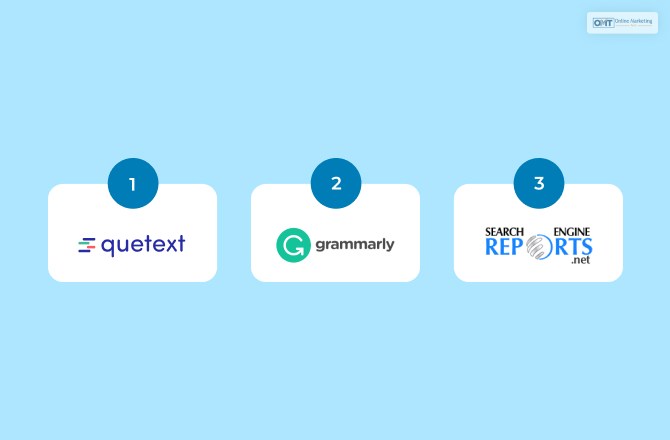 Like any other plagiarism checker, there are always a few alternatives. Just like that, Scribbr Plagiarism Checker has a few alternative options, which are.
1. Quetext
Quetext is a plagiarism software that is very similar to Scribbr, it is simple to use and best plagiarism checker for beginners. It is the best plagiarism checker when it comes to detecting plagiarism from a variety of sources. It also highlights similar sentences and phrases, for better accuracy.
2. Grammarly
Grammarly is one of the most commercially used plagiarism checker, not just students but also professionals in the field, like writers and SEO experts. It checks a wide variety of database to check for similar words and phrases.
3. Search Engine Reports
This is a yet another great plagiarism checker that ensures accuracy in finding plagiarised words or phrases. This is even better as it is all free. Search Engine Report searches a wide variety of data all over the internet to find plagiarism.
Frequently Asked Questions (FAQs):
Now that you know everything there is to know about Scribbr Plagiarism Checker, here are a few questions asked by others you might find helpful.
Q1. How Good Is Scribbr Plagiarism Checker?
Scribbr prides itself on being 100% accurate on all its plagiarism checking and reports. It is the most accurate plagiarism checker in the market right now.
Q2. Is Scribbr Better Than Turnitin?
Turnitin is primarily used by Universities and not technical by the students, whereas Scribbr is used by students. It uses the elemenst of Turnitin itself.
Q3. Does Scribbr Steal Your Work?
Scribbr prioritizes on providing a 100% privacy and security over all your documents and articles.
| | |
| --- | --- |
| PROS | CONS |
| Best Plagiarism Checker | For Quality Work It Is Expensive |
| Language Experts Do Proofreading | Limited Functions |
| Easy To Use | Additional Transaction Fees |
| | |
| --- | --- |
| Features | Price |
| It Has A Wide Variety Of Databases | For 7,500 Words – $17.56 |
| Uses Leading Technology | 7,501- 50,000 Words – $29.31 |
| Comprehensive Report | 50,001 And More – $41.05 |
| Own Source Checker | |
| Multi-File Format Support | |
Wrapping Up!
Now that you know, Scribbr is the best plagiarism checker you can get in the market at this moment. It provides you with the best quality of plagiarism report with highlighted similar sentences and phrases. It even enhances your sentence construction.
Scribbr is a reliable plagiarism checker, with a guaranteed 100% security and privacy for all the documents. Scribbr Plagiarism Checker is available both Scribbr free and paid versions for better use.
Read More: