Digital marketing's key component of search engine optimization (SEO) is constructing adjustments to your website so that it will go to appear higher on search engine results pages (SERPs) for particular keywords.
The best kind of traffic for any website is organic traffic, which is defined as users who find your website through search engine results without clicking on paid advertisements. 
What Are The Best SEO Techniques For Increasing Your Website Organic Traffic?
To increase organic traffics, content and SEO should perform in both ways. That means if you want to increase your organic traffic, you must run both content and SEO simultaneously.
Here are some pointers to help you use SEO to increase your organic traffic:
1. Conducting The Keyword Research:
The first step in any successful SEO campaign is keyword research. Finding the words and phrases your target market uses to search for your goods or services is the aim.
To conduct keyword research, you can make use of programs like Google Keyword Planner, SEMrush, and Ahrefs. It's important to choose relevant, high-volume keywords that accurately reflect organic traffic to your business and what you offer.
2. Optimize Your On-Page SEO:
Optimizing the various components of your website to make it more search engine friendly is known as on-page SEO. This entails optimizing your URL structure, keyword density, header tags, meta descriptions, and title tags.
By incorporating your target keywords into these on-page components, you're telling search engines what the content on your website is about and helping them better understand and categorize it. To increase organic traffic, you will go to require content marketing strategies along with on-page SEO.
3. Create High-Quality Content:
One of the most crucial components of SEO is creating high-quality content. You are more likely to draw visitors and place higher in search engine results if you regularly publish high-quality, educational, and interesting content on your website.
When writing content, it's crucial to incorporate your target keywords naturally and in a way that benefits your readership. High-quality content means content written by experienced people while using low-difficulty keywords.
4. Build Quality Backlinks: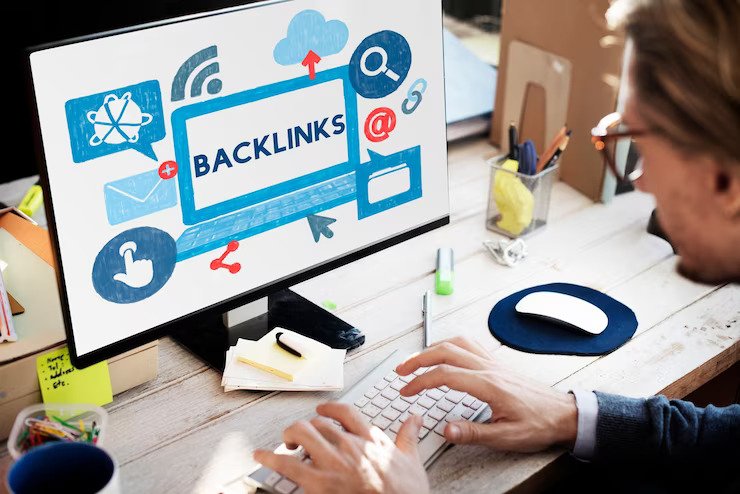 Backlinks are links pointing to your website from other websites. Because they show search engines that other websites think your content is authoritative and relevant, they are a crucial ranking factor in SEO.
To build quality backlinks, you can create valuable, shareable content, guest post on other relevant websites, and engage in broken link building or outreach. To increase organic traffic, you must link your site with multiple high-authority sites, meaning high-quality backlinks.
5. Improve Your Site Speed:
Websites that load quickly are rewarded by Google with higher search engine results rankings. You can reduce HTTP requests, use a Content Delivery Network (CDN), and compress images to speed up your website.
In addition to helping your SEO, a faster website gives visitors a better overall experience. Site speed and page loading time both matter for the site. If your website has high-quality content but your page loading time is very low. That is actually going to affect your site traffics. Now like to wait for a long time just to see the contents.
6. Leverage Social Media:
Social media can be a potent tool for increasing organic website traffic. You can drive more traffic to your website and cultivate a devoted following by sharing your content on social media sites and interacting with your followers. 
To increase your reach and engagement, it's critical to use pertinent hashtags and post at strategic times. Leveraging social media access is going to increase the ratio of organic traffic.
7. Monitor Your SEO Performance:
To find areas for improvement, it's crucial to regularly monitor your SEO performance using tools like Google Analytics and Google Search Console. To identify the strategies that are effective and those that require revision, analyze the traffic, bounce rates, and keyword rankings for your website.
You can make decisions that will increase the amount of organic traffic to your website and enhance its functionality by regularly monitoring your SEO performance. SEO performances are the main criteria for increasing organic traffic. SEO means first analyzing how the Google pages are going to perform. Then do the rest of the work to improve the page traffics.
Conclusion:
While using these tactics can aid you in boosting SEO-driven organic traffic to your website. You can create a solid online presence and draw more people to your website by doing keyword research, optimizing on-page SEO components, producing high-quality content, constructing quality backlinks, enhancing site speed, utilizing social media, and tracking your SEO performance.
It's critical to keep in mind that SEO is a long-term strategy that calls for persistence, reliability, and commitment, but the benefits of increased organic traffic and online visibility make the work worthwhile.
Read Also: